Posted on 4/7/2016, 10:00 am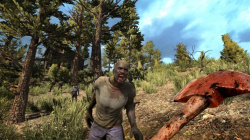 Has the firm bitten off more than it can chew?
The Telltale apocalypse is truly upon us, because the company's no longer content with inundating us with episodic outings – it's now going to publish external projects as well. The first of those, as teased on social media earlier in the week, appears to be 7 Days to Die – one of those outlast-'em-ups that streamers enjoy screaming over these days.
Our friends at Pure Xbox spotted that the title has been rated by German classification board USK, with the PlayStation 4 being one of the platforms. This game's proven extremely popular on the PC, fusing first-person shooting, crafting, tower defence, and all of the other bullet points that you'd expect to find on a 'Hot Game' checklist.
Expect an official announcement to stumble out of an irate Telltale HQ later today.