Posted on 8/16/2014, 2:41 am
This must be very usefull to all of you guys:tip:
JB PS3 Required !!!
Backup:
To backup your Bios of your current firmware to your SD-card, you need to format your sdcard to FAT32
Make you your device is off
Put the SD-card into your E3-Flasher
Set your E3-Flasher to backup mode
Turn on your device and wait until you see your XMB screen (PS3 Homescreen)
Press the start button on your E3-flasher panel
After you see your progress lights are flashing (01010101 to --> 10101010 and back to 01010101) then the backup has finished. If you see something else, it mean there is a error code
Important: Validate your dump using "Nor Dump Checker":
[You must be registered and logged in to see this link.]
Restore
On your backups you will see 4 files (3 bin's and 1 log file). you need to rename your first bin (bkpps30.bin to bkpps3.bin) before you can restore back. (A bug from E3 Flasher?)
Put the SD-card into your E3-Flasher
Set your E3-flasher to restore mode:
and press the start button on your E3-Flasher panel
Text tutorial by Tuen @Vondroid
Couple Things Your Going To Need:
- LV1, LV2, flashCEX.bin, flashDEX.bin, & or bkpps3.BIN (files with PSID and CID)
- GetConsoleID Program (which will get both IDs)
Download Link For GetConsoleID (Two downloads in case one don't work):
Virus Scan
First Method:
To get the bkpps3.bin file you need to back up your Bios.
Once done make as many back ups as you want lul there the same file just copies!
Open up GetConsoleID and drag and drop the file in the program. bkpps3(X).bin (X = which ever back up number there the same)
Then it will show your PS3's PSID and CID.
Second Method:
You can also search for your PSID and CID in HxD Editor which u need your flashCEX.bin or flashDEX.bin for this you normally get while trying to convert your PS3 from CEX2DEX!!!
(GetConsoleID program can get your IDs from LV1, LV2, flashCEX.bin, flashDEX.bin and bkpps3.bin).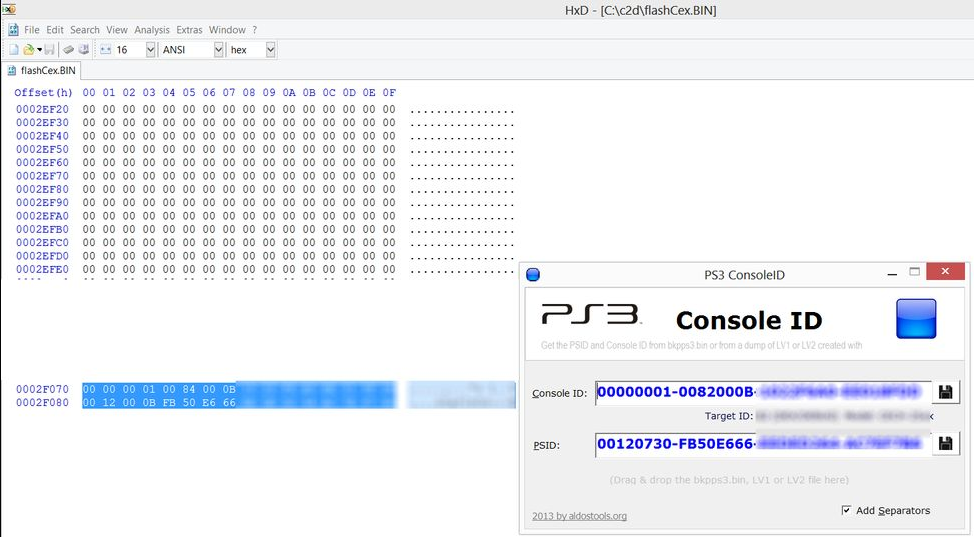 This is pretty simple if you have the right programs/ tools for it!
I hope this sorta helped more people!
Good Luck Guys:mariodance:


Last edited by Jedi on 2/22/2015, 5:11 am; edited 4 times in total