Posted on 12/30/2014, 6:51 pm
HOW TO PLAY PS2 GAMES ON PS3
Convert any PS2 ISO to PS2 Classic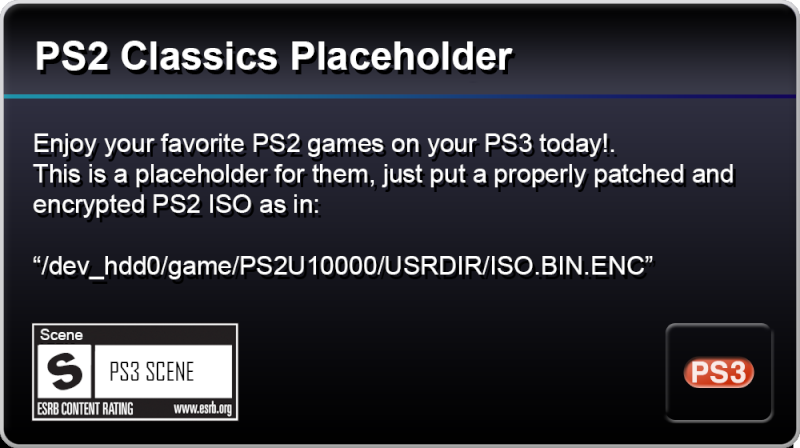 Note: This guide will have technical details to a minimum, to avoid confusion. But, assumes that the user knows how to install PKG files on the PS3, and how to transfer files to the internal hard disk drive of the PS3 console.
In this guide you will learn how to convert PS2 games in ISO format to PS2 Classic, making any game playable on your PS3 console.
:: REQUIREMENTS [DOWNLOAD][UPDATED 2013-03-26]
UPDATE: USERS ON REBUG 4.21.1 must update to latest release, or you will not be able to play PS2 Classics
- PS2 Classic Placeholder PKG R3 [updated 2013-03-26!]
- RAP file to activate the PS2 Classic Placeholder PKG
- reActPSN (used only once, to activate the PS2 Placeholder PKG)
ps3tools v2.2.4 [updated 2013-03-22!]
ps2classic GUI v1.6.1 [updated 2013-03-25!]
- Any PS2 game ISO
PS2 ISO --> PS2 Classic
DOWNLOAD:
Spoiler:
:: INSTALLING AND ACTIVATING THE PS2 CLASSIC PLACEHOLDER
1- Copy the provided "exdata" directory to a external USB Storage Device (FAT32).
2- Install the provided "PS2 Classic Placeholder PKG" to your PS3.
3- You will now have a new icon on the XMB, but it is not activated, and of course doesn't have the PS2 game ISO yet.
4- Install the provided "reActPSN PKG" to your PS3.
5- Create a new user on your PS3 called "aa".
6- Log in to the new user account and run "reActPSN"
7- It will restart you PS3 and you can now log back in to your regular user account.
Note: After this step, the placeholder will be ready and you will not have to mess with reActPSN anymore. It still does not have any PS2 ISO that will be done later, keep reading.
:: INSTALLING THE TOOLS ON YOUR PC
1- Install ps3tools v2.2.2
2- Go to where you just installed ps3tools and run "PKG_ContentID.exe" (as Administrator to allow Registry write privileges) then close it (this will add the "Make PKG..."available on the windows context menu).
3- Install / extract ps2classic GUI v1.3 to anywhere you like
:: CONVERTING ANY PS2 ISO TO PS2 CLASSIC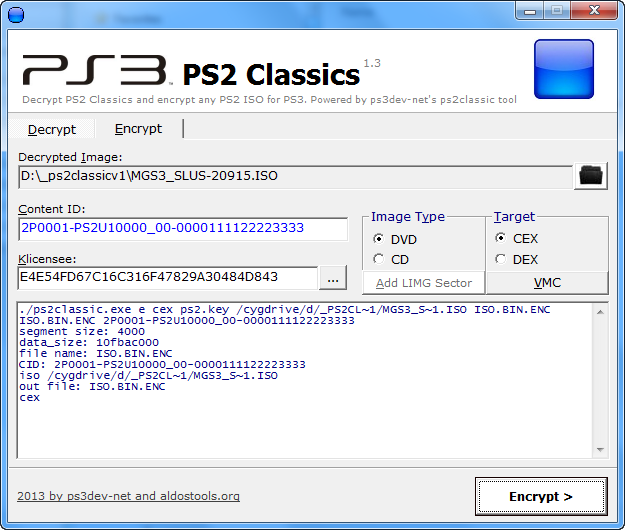 1- Run "ps2classic GUI v1.3" and switch to "Encrypt" tab.
2- Browse your PC for any PS2 game ISO and select it.
3- Copy and Paste this on the Content ID field: 2P0001-PS2U10000_00-0000111122223333
4- On the klicensee field Copy and Paste this: E4E54FD67C16C316F47829A30484D843
5- Click on "Add LIMG Sector" button and on the next pop-up click "Yes".
6- Click "Encrypt" and on the next pop-up click "Yes".
7- Wait for it to finish, a pop-up will come saying its completed.
8- You will now have a new file called "ISO.BIN.ENC" (this is the converted PS2 game to PS2 Classic)
UPDATE 2: just notified me about a new version of PS2 Classics GUI 1.4:
[​IMG] Originally Posted by aldostools
The CD001 is now checked at 0x8000 for DVD and 0x9318 for CD.
This version now uses the Volume Sectors located at offset 0x8050 for DVD and 0x939C for CD. If the LSD value is 0, tries to use the MSD value. If both values are 0, then it uses the former method using fixed sector sizes 0x800/0x930.
The sector size and number of sectors is now displayed, like in ImgBurn, so now it can be easily compared with the ones in the LIMG.
Other minor changes were made... I hope that this build help to improve the creation of the images (specially the CD ones).
UPDATE 1: PS2 Classics 1.3.2 now has a ISO9660 check (it looks if offset 0x8000 has the CD001 magic)
NOTE: When selecting the desired ISO on step 2, make sure to use ISOs that were built as ISO9660 with sectors of 2048 bytes. You can verify this with ImgBurn.
Then you should open the ISO with a hex editor and check the offset 0x8000 (sector 16), the standard ISO9660 Identifier (CD001) should be located exactly there, if there is other data at that point of the ISO, then probably you have an ISO that was built as binary, as a result it will have a different sector structure.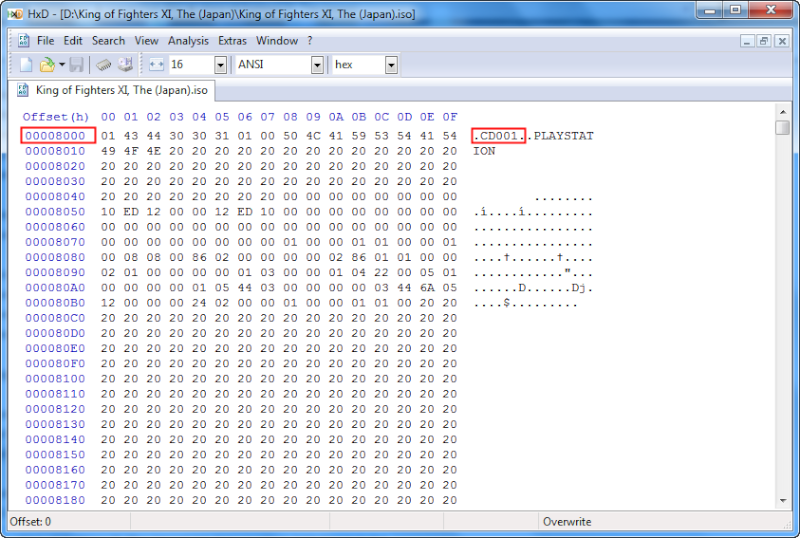 :: TRANSFERRING THE CONVERTED PS2 GAME
There are various method you can transfer the new "ISO.BIN.ENC" to your PS3, where you installed the "PS2 Classics Placeholder PKG", I will mention them here to give you an idea:
Method 1:
Use the "PS2U10000" directory structure provided to make a game update package. You just have to put the "ISO.BIN.ENC" on the "USRDIR" and use "ps3tools" to make a package of the whole directory structure.
If the size of the PKG is more than 4GB then you will have to split it using any of the tools available for that (they must have extension of .66600, .66601, etc... to be installed via multiMAN).
Method 2:
Just copy the "ISO.BIN.ENC" to your external USB Storage Device and paste it on your PS3 at "/dev_hdd0/game/PS2U10000/USRDIR/"
If the "ISO.BIN.ENC" size is more than 4GB then you must use other method.
Method 3:
Upload the "ISO.BIN.ENC" via FTP / multiMAN to your PS3 at "/dev_hdd0/game/PS2U10000/USRDIR/"
Code:
1- Copy the rap of your base game (PS2) as a new random content id. eg. EP0000-NPED12345_00-AAAABBBBCCCCDDDD.rap
2. Copy the new rap to the RAPS folder of PS2 Classic GUI
3. Extract the files of the PKG of your base game (except CONFIG and ISO.BIN.ENC, they will be deleted/replaced anyway)
4. Launch PS2 Classic GUI, select the ISO and enter the new content id. eg EP0000-NPED12345_00-AAAABBBBCCCCDDDD
(it should display the same KLIC of your base game)
5. Add the LIMG header and encrypt the ISO as ISO.BIN.ENC
6. Edit the PARAM.SFO on the extracted with the title of the PS2 title.
7. Copy the ISO.BIN.ENC to the base game
8. Rename the extracted folder with the new content id (EP0000-NPED12345_00-AAAABBBBCCCCDDDD), right click and select Make PKG
9. Install both raps (the original and the new created) using reActPSN
10. Install the PKG
In short: you copy the rap of your base game, rename it with a new (invented) content id/title id and encrypt the ISO and create the PKG using that new content id.
Love ya Guys!